Water Damage Tallmadge
911 Restoration Cleveland is here for those whom reside in Tallmadge when they are in need of water damage services. Typically, one may associate that with either a pipe burst or a flood, but it takes more forms than just that.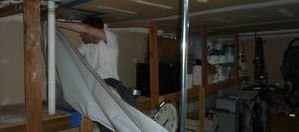 It may be a leak from a roof, or crawlspace cleanup. Regardless of what the accident may be, we are here to air homeowners through all of it.
You get help that is:
Available 24/7/365
Same-day service
Respond within 45 minutes
A free water damage estimate.
Latest drying technology
If you notice mold or any other sign of damage like crumbling sheetrock, give us a call. We are a team that can do it all, so trust that you will get taken care of the right way.
Water Damage and Roof Certified Restoration
The extensive WTR certificate that our IICRC certified team holds makes us equipped to handle roof damage as well. Typically, the first sign of an incident is a roof leak or a moldy attic. This when you should pick-up the phone and call us.
Upon our arrival, we come with everything required to locate hidden water and remove it. The infrared cameras we have at our disposal allows us to peer into the ceiling above and see trapped humidity.
See, due to water's high specific heat capacity it absorbs warmth well, so in our cameras it appears as blue dark spots.
This is one way in which we increase our efficiency. Deliberate and calculated moves means the job is done correctly. Moreover, the knowledge we have acquired in our training and the years we have been in business means that we know how to remove excess water in a manner that saves the homeowner money.
For example, when repairing a roof, we create an airtight line from the ceiling to a dehumidifier. This decreases ambient humidity and it increases evaporation time.
Therefore, we don't tear your house apart drying it out. Instead, only the things that need restoration or repair receive our attention. Finally, we treat the area with a decontaminating solution in order to halt mold growth in its tracks.
Long lasting fixes is what we are all about at 911 Restoration Cleveland. For a fresh start, and a team that cares about you, call us today.
Active Inspection for Water Incident Protection
The water damage Tallmadge team never wants you to experience any form of accident. Therefore, we would like to give you some great tips for avoiding some of the most common water related incidents that occur to roofs like ice damming and leaks.
An ice dam is a little less explanatory than a roof leak, so we would like to take the time to elaborate on that for a moment.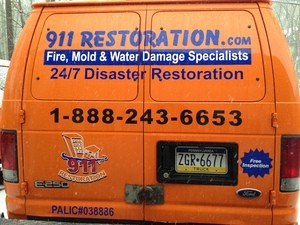 One results due to the constant flux of ice melting and refreezing. When it lands, as snow, it melts because of the heat of the house radiates from the center outward.
Now, most homes do not have insulation on the edges of the roof, so when the water melts it becomes ice again as it reaches the end. When this happens enough times it forms a dam, which the keeps the initial melting water pooling.
This type of stagnant water will damage your roof the same way it does when it rains. Which leads us to the next part, the tips. These tips will aid you in keeping your roof healthy, so that you remain happy.
In your review ensure that all these parts are working together in keeping water off the top of your home. A broken shingle will not lead water into the gutter, and then down the spout.
A clogged gutter will keep water pooling, which will lead to mold that will eat away a shingle. All these aspects are inter-connected, so keep things running well.
In the event you notice some damage, call our water damage Tallmadge team with 911 Restoration Cleveland, and we can get straight to work providing you and your home with a fresh start today!