About 911 Restoration of Cleveland
Meet the Owner:
With more than 16 years of experience, 911 Restoration of Cleveland is no stranger to water damage or sewage backup. The owner of 911 Restoration has been roofing and boarding up homes since he was a young adolescent.
When former customers started referring their friends to him directly, he knew it was time to make his dream come true and open his own restoration business.
Still, it took him a year to decide on a franchise partnership with 911 Restoration Cleveland.
"I wanted a franchise who is as passionate about helping people as I am." I've never ignored someone with a flat tire, and I frequently help my neighbors plowing snow off their driveways."
For 911 Restoration of Cleveland, everything starts with the community. We aim to always be the helping hand no matter what the situation is. The community and local neighborhood we live in shapes who we are. Our community is our home. And here at 911 Restoration, we take care of all homes, especially our own.
We're proud to be a disaster company that everyone can count on to show up for them in their time of need. That's why we put extra attention into hiring and training the right technicians for 911 Restoration of Cleveland. It's important to work with like-minded people. When it comes to emergency services, everyone appreciates promptness, professionalism, and empathy.
Fire Damage Prevention Tips: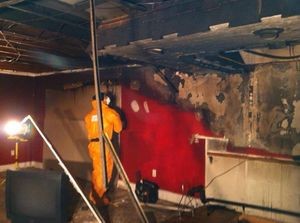 Since large fire damage losses are our specialty, we have several advises for homeowners to avoid large property lost:
Replace the filter of your furnace often. Cleveland is known for its harsh winter, and daily use of household furnace is common place during colder weather. The accumulated dust and particles are electrically charged. Replacing your filters often will improve your air quality as well as reduce your chance of a fire.
Homeowners often forget to safeguard their basement, which is ironic as most homeowners insurance policy actually does not cover basement fire. "Keep up on your vents and filters. Check them monthly."
Tornadoes may bring thunderstorms, but they also carry inherent fire danger. Turn off your electrical main power during a tornado as electrical shocks happen, and a fire can closely follow a flooded home.
The most important thing is to stay calm and know that things will be better tomorrow. Our first priority is always to get traumatized homeowners to see the Fresh Start just around the corner.
Restoration is About Making People's Lives Better
It doesn't matter the time, the location, or the disaster, 911 Restoration of Cleveland is always available 24/7 with a 45 minute response time. If you need mold remediation on a Saturday afternoon, we'll be there. If you have a water leak on a Monday night, we'll be there. Our specialists are certified, licensed, bonded and insured to handle any disaster that comes your way. We know what it takes to give you the peace of mind that you deserve. Because at the end of the day, it's not just about restoring your home or business. It's about restoring your lives to a better state than it was before.