Water Damage North Olmsted
The water damage North Olmsted team at 911 Restoration Cleveland are experts at cleaning up all types of water damage, from floods and leaks to drips and explosions, they can handle it all.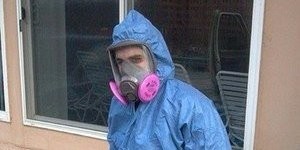 Since alleviating water damage quickly is crucial to preserving the integrity of the home, Allen vows that his water damage North Olmsted agents will be available 24/7/365, ready to get to work right away.
Living in an area with extreme weather patterns, coupled with normal accidents that happen in a home, cause homeowners to be prone to experiencing water damage throughout the year.
These professionals have over 35 years of experience in the industry, making the water damage North Olmsted experts a reputable source in home restoration field.
911 Restoration Cleveland operates around the clock and will be at your home within 45 minutes, ensuring prompt service, so give us a call today!
Keep Your Toilet from Flooding Your Bathroom
In order to help you avoid a costly incident, the water damage North Olmsted staff wants to offer some tips to keep your bathroom clean and dry.
Make sure the valve refills the bowl with enough water after flushing.
Know where the main water supply valve is and know how to turn it off.
Check the flushing mechanism every six months.
Make sure that the toilet stops running when the float reaches the appropriate water level.
Replace the flapper or fill valve if your toilet keeps constantly flushing.
Inspect the supply line twice a year.
Make sure the connection to the valve is not leaking.
Run the valve to see if the water supply will turn off.
The licensed, bonded and insured pros have the most state-of-the-art machinery, preparing them for any water damage job. The homeowners in North Olmsted, Cleveland are familiar with the high humidity, heavy storms and freezing temperatures that go on throughout the year.
We Will Be There for Your Water Damage Needs
Our IICRC certified professionals always want the customer to feel like they are the priority. We offer free home water damage estimates to all homeowners, making sure that they get an honest, affordable quote.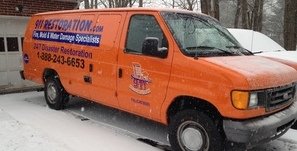 The water damage North Olmsted staff works with all major insurance companies in an effort to get you the lowest out-of-pocket price possible.
We will even take care of all the technicalities of the insurance process, handling the entire claims process for you, including submitting paperwork and talking to representatives.
911 Restoration Cleveland branch owner Allen Smith knows how important it is to tackle water damage quickly after it occurs. Letting water stand for a long period of time can cause a mold infestation, which can eventually lead to structural issues and even health problems.
Let Allen and his water damage North Olmsted service agents be there for you during your water damage emergency.
Please, call our water damage North Olmsted team with 911 Restoration Cleveland so we can give you back your life, and a fresh start that your home or office needs today!