Water Damage Kent
911 Restoration Cleveland can take care of the water damage Kent residents experience. This area has an annual rainfall of around 37.08 inches. May is the rainiest month of the year followed by June and July.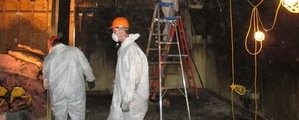 Our company can take care of water damage caused by rain, floods, and serious storms. 911 Restoration is available 24 hours a day and seven days a week to assist you with all of your water damage needs. We use the latest drying technology, and we have a 45 minute response time.
Kent is also home to many historic structures such as the John Davie House, and we pride ourselves on preserving our community and protecting its cherished buildings.
Contact us for all of your restoration services because we have over 35 years of experience in this disaster restoration industry.
Our water damage Kent company is also fully insured, licensed and bonded so you can have peace of mind when we work for you.
911 Restoration works with all insurance companies and will do our best to offer you professional services that will not cost you a fortune. Call us today!
Prevent Water Damage Situations

We can help prevent some forms of water damage from occurring. We will be happy to install a sewage back flow valve to prevent sewage from coming back up through your toilet or drains.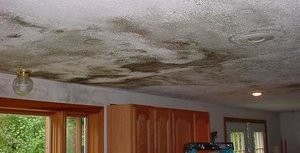 We can also install sump pumps to help get rid of storm water and more if your basement tends to flood a lot.
Our goal is to make sure that your home stays as dry as possible so that you not do not have to worry about problems such as mold.
We are proud to offer same day services. Our technicians are always professional and put the customer first.
Our water damage Kent company offers quality services at prices that you can afford.
We know that once mold starts it can spread extremely fast, so we will help you stop it beforehand if possible and provide mold remediation if necessary.
Water Damage Restoration Specifics

You can hire our water damage Kent company to clean up all of the black and grey water that floods your home. We know how to remove sewage and how to sanitize your home so that it is clean and safe to enter.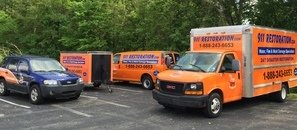 We can help you after a toilet overflow or water heater leak. If you have a pipe burst, we will be ready to take care of it for you.
We can also work on plumbing leaks, ruptured hoses, and much more. To problem is too big for our expert technicians.
We start off offering a free inspection so that we can see what type of water problems you are dealing with. We use sophisticated technology that allows us to find your plumbing leaks and other problems fast.
911 Restoration offers a variety of different services from restoring your cabinets to cleaning and drying your carpets. We can get rid of any contaminated water from your home with our water removal services, and we can easily take care of water heater leak repair.
If your amazing property is already suffering from the effects of a liquid invasion, then contact our water damage Kent team with 911 Restoration Cleveland for help today!