Water Damage Garrettsville
Homeowners in Garrettsville can feel confident knowing that the water damage professionals at 911 Restoration Cleveland will be at their home within 45 minutes of receiving an emergency call, no matter what time of day or night.
When you call the IICRC certified Garrettsville techs, you will have access to someone these amazing benefits: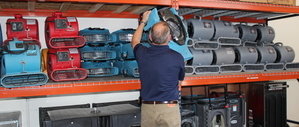 Available 24/7/365
Latest drying technology
Respond within 45 minutes
Free water damage estimates
Affordable pricing
Willingness to work with insurance
Advanced water extraction equipment
IICRC certified technicians
Our staff will send Garrettsville water damage remediation techs to your home within the hour, because we never want any of our customers to have to wait for assistance.
The Garrettsville flood extraction crew has been in the home restoration industry for over 35 years, making their service agents some of the best in the business. We are all thoroughly trained in remediating any disaster, with water damage being our specialty.
The entire water damage Garrettsville operation is licensed, bonded and insured, proving just how much we care about protecting the community's homeowners.
We know just how qualified we are to get any water damage job done. We have been through it all, from sewage backups to fungal infestations inside ceilings. The Garrettsville technicians know how to keep your loved ones safe when water invades your living environment.
Our Team Can Remediate Any Potential Mold Issues
If you experience a flood in your home, it's important to call skilled mavens like our experts at 911 Restoration Cleveland. If water is left untreated in the home, then the trapped moisture will most likely cause a mold infestation, as well as damage to your walls, floors and other home elements.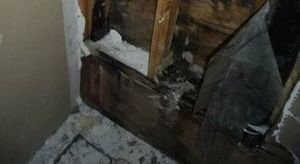 You may already have mold spores in your home without knowing it, making it especially important to call the Garrettsville water removal agents immediately.
This way we can remove all fungus before it has time to spread throughout the entire home.
Some signs of mold can include rotting walls, warped floors, ceilings and other structural elements of the home, earthy smell through-out the home, allergy-like symptoms, including trouble breathing, coughing and itchy eyes.
We use state-of-the-art water removal and drying technology, so the Garrettsville plumbing experts will entirely exterminate all fungus from the property, stopping any possible infestations.
The Flood Extraction Pros Will Help You Through the Water Damage
We understand that customers are sometimes uneasy about the financial side of the home renovations, so to lessen that fear, our staff offers free visual inspections and free home estimates, so you never have to take a financial risk when you call the Garrettsville team.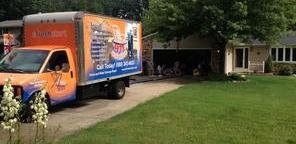 Our members work with all major insurance companies, filing all the paperwork and communicating with reps to get you the lowest out-of-pocket expense.
The Garrettsville water damage pros know that a pipe burst or a hose rupture can happen anytime, so they make sure to be available 24/7/365, enabling them to assist you around the clock.
Do not let water damage invade your home or your life. Call the Garrettsville water damage remediation specialists today for fast, competitively priced restoration services.
If your home or business location is already amid a flooding situation, then contact our water damage Garretsville team with 911 Restoration Cleveland for help today!