Snow Storm Cleveland
If your property has been damaged by a snowstorm you can rely on the snowstorm Cleveland pros with 911 Restoration of Cleveland. With same day services available, our staff and team are readily available to assist you 24/7/365.
No matter what time you call, our IICRC certified snowstorm Cleveland specialists will arrive to your property within 45 minutes of your call.
The impacts of a blizzard can be quite damaging and costly, so it is important to call a specialist the moment you notice any issues. Our snowstorm Cleveland pros are trained to provide an array of comprehensive services. Some include:
Snow removal
Water extraction
Mold removal/remediation
Wind damage
Pipe burst
Roof damage
Ceiling leaks
With a free visual inspection and a tailored repair plan, our licensed, bonded and insured, our team of specialists will make sure you are back in the comfort of your home as soon as possible. Call 911 Restoration of Cleveland if you are noticing snow or blizzard damages.
Weather Proofing Your Home to Avoid Snow Storm Damage
Snowstorms and blizzards can cause a wide range of damages and the potential for water damage and mold growth is highly likely. Some storms can be so rough that piping, sewer and other systems may not be able to handle the pressure.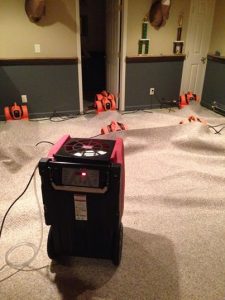 Our snowstorm Cleveland team travel to each disaster site fully prepared and geared with top of the line equipment and tools, so we can implement repairs the moment you need us to as quickly as possible.
When you work with our team, we not only provide repairs but provide tips and pass along advice to help property owners avoid these issues in the future. Some of the tips from the snowstorm Cleveland specialist are:
Keep gutters away from the roof and make sure they are clear of any leaves or debris
Check your roof and chimneys & look for any decaying sealant; cracked sealant will easily grant water access inside
Inspect your sump pump. Check the battery and make sure it runs properly
Our snowstorm, water and mold removal team truly care about your safety and well-being, which is why we work with our customers so closely. These simple steps can prevent water damage and other costly repairs in the future.
With over ten years of experience in the restoration industry, we know the quickest and most efficient way to implement water, snow and mold removal repairs, so the minute you notice a leak or suspect you need a mold removal specialist, call our snowstorm Cleveland pros right away!
We Will Walk You Through the Insurance Process

Our customers always come first, and we go the extra mile to ensure all of your questions are answered so you have peace of mind. Repairs can be a financial burden and moving your family around can be another overwhelming factor.
While our snowstorm Cleveland pros are repairing damages on site, our project managers will guide you through any paperwork for your insurance claim. We make it easy for you so you can focus on other priorities.
Get immediate and long term repair solutions during or after a snowstorm or blizzard. Our snowstorm Cleveland team is here to give you a Fresh Start