Truth Be Told – What You Need to Know About Mold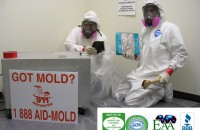 There are several kinds of mold—white, green, orange and black—and none are pretty or good to have around. White, green and orange mold are non-toxic; however, mold can cause allergies to flare up, which is problematic because it can make you feel sick from producing symptoms much like a cold. Also, since the body perceives an allergen like a virus, the immune system kicks into high gear to fight off this allergen. This causes the body to become fatigued and more susceptible to catching viruses due to a weakened immune system. I don't know about you, but I particularly enjoy my energy and can't get much done when I don't feel my best. Mold is not just gross, but it robs your quality of life.
Beware of Black Mold!
We've all heard about black mold and its dangerous effects. If you haven't heard about black mold, let me be the first to tell you that it's toxic. Black mold produces something called mycotoxins which can cause black mold poisoning resulting in not just allergies, but fungal infections, nervous system disorders and asthma in addition to other respiratory problems.
Treatment & Prevention
Some people recommend improving the home's air quality first, but what good is that if there is still mold present, which produces additional mold spores? The first thing to do is to kill the mold. There are a few ways to kill mold. People are either bleach-people or they're not. For the bleach lovers, good news: Bleach kills mold, but only on non-porous surfaces. For the bleach haters, there are many other methods available, but immediate and incessant action is required. All that's needed to kill mold with bleach is a ratio of one cup bleach per one gallon of water. However, there are other methods for removing mold with borax, vinegar and 3 percent hydrogen peroxide for those who wish to use substances that are non-toxic and won't produce fumes. Ammonia is another substance that is toxic and cannot penetrate porous surfaces, but it can kill mold. Ammonia should never be mixed with bleach.
To use borax to kill mold, mix one cup borax per one gallon of water. Spray on and leave it until it dries. To use vinegar or hydrogen peroxide, do not dilute with water. Leave vinegar sitting for one hour and leave hydrogen peroxide on the mold for ten minutes. If you choose to use ammonia, mix one part ammonia with one part water and spray on the mold.
After the mold has been treated, other methods for mold prevention will need to take place. Use a vacuum cleaner to suck up any mold spores that are in the air. Next, open the doors, open the windows and allow the light in. Sunlight naturally kills mold and mold spores. Ventilation within the home prevents mold from growing and from spreading to some extent. When the air is allowed to become dark and stagnant, mold spores have an easier time seeking out moisture in the home. In addition, ventilation may cut down on humidity where mold typically collects, such as in showers, basements and laundry facilities. The best cure for mold is to prevent it.
Know When to Call a Pro
Although these do-it-yourself methods may be helpful in minor cases, it is best to call in a qualified mold remediation specialist to really get the job done without putting yourself at risk. Mold often grows after you have experience water damage in your home or business. A good restoration company should be able to provide both water damage services and mold remediation since they are so directly linked.