Water restoration after natural disasters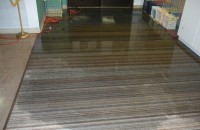 Whether or not you live in an area that is prone to natural disasters, you can never really predict what might happen tomorrow. When disaster strikes your residential or commercial space, don't waste a single minute before calling your local full service disaster restoration company.
A variety of restoration needs might crop up after a disaster:
Structural damage
Water damage
Flood damage
Fire damage
Smoke damage
Mold infestation and much more
Often, you may find yourself dealing with more than one problem at the same time. Don't worry! With years of experience under our belt, we have dealt with pretty much every situation and disaster that could happen in the area.
Services
We're available 24 hours a day, 7 days a week, 365 days a year. Our emergency team is decked with the best equipment and tools to handle any disaster restoration need and will be at your side within 45 minutes after you call us!
Our list of services includes:
Emergency water extraction to limit water damage
Emergency roof repairing
Emergency packing out and storage
Emergency boarding up of the affected space
Evaluation, inspection and testing for structural damage
Mold removal and remediation
Tree removal services and more
After a disaster, you want to get your life back to normal as soon as possible. We are the experts at disaster damage repair, for both residential and commercial property. Waste no time in calling us – you will be glad you did!